Of all countless drafts I've made in the pasts months, I just feel this deserves to be published.
Oh, how I love lights! A star filled sky would always be my favorite, and next to that would be sparky lights, fireworks, and sky lanterns. Once upon a time, like Rapunzel, I've always dreamed of seeing "the lights", and the closest to the lantern festival is that of UST's Paskuhan, an ongoing tradition for years now.
Last 2014, I was ecstatic and very much thrilled to experience it for the first time.
From one pathway to another, with hanging lights. . .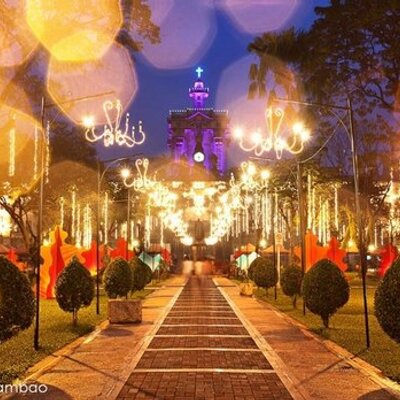 But of all things to miss - it was the highlight of the night. . .
The fireworks display.
I was so naive back then, and the entire situation and the reason behind it was just too perplexing and it really hurt me. At the same time, I was confused and baffled by how reality presented itself to me. I figured, it wasn't the right time yet.
He made everything better, and made a promise. . .
-- fast forward to 2015 --
It was the last Friday before Christmas, when we drove all the way from Makati to Manila for this year's Paskuhan. The ride wasn't at all smooth sailing, and it probably was the hardest of all, but we made it through the rain, flood, and irking red lights.
"Starr's?" he said. This was my immediate reaction, and it made him laugh hysterically while we were crossing the street.

...and yes, we went to Starr's Milkshakes! I've been craving for their Vanilla White Chocolate Milkshake since August, so FINALLY!
After waiting for the rain to stop, we found a way to enter the campus. THIS IS IT! I told myself. *poof* It was dark. . . and strange, to not have a single string of lights in sight. I must say though that the video mapping lights were still dazzling! It's the first of its kind here in the Philippines, so - WOW.
Photo courtesy of Marvin Lorenzo Gonzales
Just a few minutes before 9pm, we found a spot in the middle of the field! We stayed there while waiting for the highlight of the night - the fireworks display. I was scared, and nervous at the same time because of last year. But this year made me happier and more excited, because I have a well-guarded heart because of him ❤
Ahhh, almost 9pm, it's time ---
It rained.
And the first set of fireworks were kind of a let-down because it rained.
Oh, but it was probably a test!
The real thing happened after a few more minutes of waiting.
FINALLY. FINALLY.
Though the start was just 'okay', it was still magical towards the end.
*sings* --- "and at last I see the light, and it's like the fog has lifted"
There wasn't enough room for taking an actual photo, because it is best "EXPERIENCED"
But thank God for super-photographers!
Photo Courtesy of Vincent Tanching.
We were just there.
Quietly watching rapid bursts of light and color while he held me in his arms.
I felt so warm, and incredibly happy because finally, finally -
We're here.
What I've been waiting for happened just like that.
It wasn't what I expected it to be, it wasn't as thrilling as I expected to be.
In fact, it was more than what I expected ---
THIS.
...and everything in between.
In the middle of the field, we had white mat for ourselves (thanks to excess surgery stuff) We felt a little selfish for a while, but just laughed it off.
We felt a little too old for a while, but hey - romance never gets old.
We took of our shoes, sat still and took a few photos while waiting.
He rested on my lap, and held my hand - this was one of my favorite moments.
It always makes my heart smile when, after a tiring day, I get to hold him like this. In this way, I can give him extra strength and I get to pray for him as well. && when he holds my hand, I always feel safe and wanted.
Oh and, he was ready with his umbrella when it rained, hence the added picture-perfect scene from a movie.
Again, one of my favorite moments. Probably a coincidence? Nope - he simply makes sure to take care of me, rain or shine. And I find it romantic.

Hmmm.. :') it's in the little things, really.
And I love how he makes these things happen.

And I can finally say "it's time".


Yes, highlight of my night wasn't the fireworks - even if it's what I've always dreamed of.


Truly, God makes everything beautiful in His time...in His own ways.


It was a series of simple and endearing moments,
creating bursts of fireworks in our hearts (and tummies)
It was the light love brings, that shines the brightest when in darkness.
In a deeper sense, it was how love conquered.
How love made room for forgiveness.
How love made room for creating moments to cherish.
How love did not give up.
How love strives to look past flaws, shortcomings, and imperfections.
How love always finds and makes a way.
How love keeps promises.
How love endures, and never fails.
:')
Teach us to love like you, Lord.
and always put you in the center.